December 28, 2012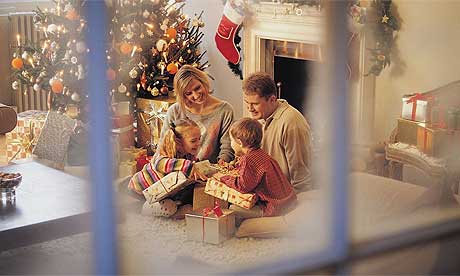 So i'm finally getting round to blogging about our Christmas. It seems that we've been just as busy since Christmas Day as we were before it, but we've all had an enjoyable time and now we're going to have a relaxed few days until Sir goes back to work next Wednesday.
i didn't think Finn would be able to wait until Christmas Day to be honest, he was sooooooo excited. i had to hide all the advent calendars and all the presents to stop him opening everything at once before the big day arrived. And i've lost count of the number of times he's launched himself at the tree trying to climb it, and pulling it to the floor in the process (hence we're taking it to a recycling centre this weekend). Also his hyperness just got completely out of hand in the week before Christmas and it was very hard to keep him safe and the house in one piece.
But on the actual day itself everyone was pretty well-behaved! The kids were awake early, mainly thanks to Finn who was bouncing round the house at 5am, so we brought them into our bed and opened up the presents from Santa in their stockings before breakfast. These are smaller gifts, like sweeties and little toys and crayons and hair things for Poppy and socks and so on, but all 3 kids were content to look at and explore these gifts before breakfast. Then we sat round the tree and opened up the rest of the Santa presents (except for William who had a big seizure during breakfast, so was sleeping).
Finn had asked for a 'real' dinosaur, but we ended up getting him some toy ones, plus lots of books and puzzles and models, etc about dinosaurs and he was content. We tried to explain to him again that real dinosaurs don't exist anymore because they all died out, but i don't think he understands about extinction yet. Finn also got some transport toys (he still loves trains and trucks), some Elmo toys (his favourite TV character) and plenty of 'boy' toys. He was very happy with his loot and actually spent quite a bit of time Christmas morning playing with his things rather than zooming round the house like a loony, as usual!
Poppy had asked for some Peppa Pig toys (her favourite TV show), some new models for her Sylvanian family collection and a farm set. She also got lots of arts and crafts materials, books, clothes, things for her dollies and 'girly' gifts. Poppy has lots of interests including reading, drawing, painting, crafts, nature, music, roleplay, etc. and we tried to cater to all of her interests with the presents we bought. She was also a very happy girl and played nicely with her toys and did a good job of keeping both boys occupied while i sorted out the Christmas dinner - what a good girl :)
William, when he woke up and we helped him open his presents, got sensory toys, water toys, musical toys and educational toys. He showed interest in some of them (it often takes him a while to get used to new things) and was happy to let us help him play with them. William was content and relaxed all morning, which is good for him because often changes to routines can make him very temperamental and cranky.
i got lots of lovely presents, including bath stuff, clothes, handbags, shoes, jewellery, vouchers and pretties :) Sir also seemed happy with the things He got, so we all did well and were lucky.
i cooked Christmas dinner with a bit of help from Sir and it was really nice. Even William ate some and Finn tried some sprouts this year without throwing them at the wall, like he did last year! There was plenty and we were all very full by the time we were done! In the afternoon we watched some Christmas TV together and played with their toys some more, then we all went out for a little walk round the village to calm down before bedtime. All the kids went to bed pretty early Christmas night, i think they were all worn out!
Since then we have had friends and family over, exchanged yet more gifts with them, eaten up most of the Christmas leftovers, munched through most of the Christmas snacks table, gone sales shopping and got a few good bargains and watched more Christmas TV and films. Overall it's been a lovely family Christmas and we've enjoyed spending time with each other. Once again, i've been reminded how lucky i am to have my little family, despite the challenges that we face with the boys. And in the middle of the Christmas week the paperwork arrived for me to fill in about getting William and Finn statemented, which is the first step in getting them the help and support they both need.
So next year is looking good too :)
i hope everyone had a great Christmas and that you will have a good New Year too.
xxx